Southern Border
Level 105-120
Central hub
Seven Mile Cave
Denizens
Overview
Edit
Farthest to the south lies the treacherous Southern Border. Nearly everything dwelling here has become twisted and will attack on sight, including forests of man-eating trees.
For a brief respite, find Seven Mile Cave. The cave is a beauty, filled with tropical trees. Visitors may see the occasional peafowl strolling the grounds.
Wansha Hall, to the northwest of Seven Mile Cave, was once a place of learning and enlightenment. Now it has fallen into ruin and is over-run with serpent creatures.
Map and subregions
Edit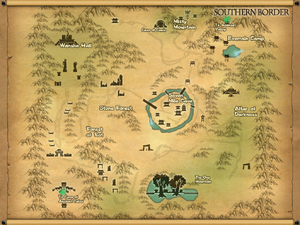 Connecting Zones
Edit
| Zone | Level | Direction |
| --- | --- | --- |
| Southern Border | 106-120 | South of Incence Valley |
Monsters
Edit
Krah_Terrorwing
Krah_Authorization
Earthworm
Manbiter
Nabu_Wizard
Seer
Grimed Golem
Fresh_Corpse
Vicious Pest
Hellbent_Addict
Snakeman
Snakewoman